FamFave Products - featured product: Digital Thermometer FF015D
When your family is feeling symptoms, especially the little ones who can't say what's wrong, you can reach for our thermometer with confidence. It's been laboratory tested and proven accurate to within 0.2 F degrees, so you can rely on it.

But it's not just another thermometer like the others. This one helps your family best by including all the best features of the latest technology all available to be distinctively different:

1) Big display - the largest of all digital thermometers of its type

2) Lighted display - so you can use it in a darkened room without disturbing anyone

3) Fast results - fastest of all, average 10 to 25 seconds

4) Flexible tip - no more pain or discomfort for squirmy babies and children

5) Beeps when done - so you don't have to keep watching and waiting or checking the time

6) Memory - shows last temperature taken when you turn it on for the next use

7) Plastic storage case to keep it clean and ready

8) Switchable F or C degrees - easy one-button changeable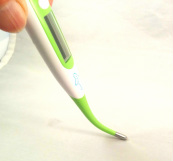 Soft Flexible Tip
It won't poke or stick your loved one. The tip bends to fit comfortably wherever it is used.
---
One-Button for Easy Use
Just press once to turn it on and display last temperature reading.
Then "L" (for low temp) will display - that means it is ready to use.
---